FEATURED PRODUCT
---
Diaper Product Reviews
Diaper Company Reviews
Add a Listing
Modify My Listing
Report a Review or Listing
---
---
DIAPERING POLL
How long have you been cloth diapering?
Click to respond
---
HELP! I've lost my company ID &/or password!
If you go to your listing (start at the top index and drill down until you view your full details), look in the URL in the address box of your browser for your ID number - it will look like this:
http://borntolove.com/resources/
fulldetails.php3?liens_id=46
So the company ID number is 46
When you click on "Modify My Listing", there is a link there called "Forgot Your Password?". If you click on it, it will send your password to your email address.


Bet you thought no-one was using cloth diapers anymore?
Check out our Resource listings - 750+ baby cloth diapering company listings! Plus 150+ youth and adult product companies! We offer the most comprehensive resource listing - world-wide - of cloth diapering companies, information on diapering, books and articles of interest. Did we miss anyone . . . or any articles? Is your favourite diaper company missing from our Resources? Tell them to come and add their listing! Corrections, updates, additions and suggestions are always welcomed!
---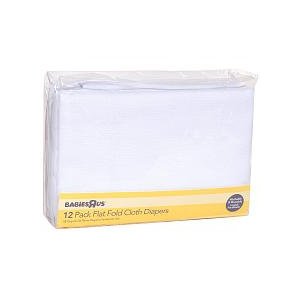 Babies R Us Flat Diaper Reviews
Babies R Us Flat Diapers - 100% cotton diaper. The generous size allows for custom folding for better fit. Durable enough to last wash after wash. You will love the convenience of these cloth diapers! Flat diapers have the same thickness throughout so this diaper is also ideal for use as a burp cloth. Great for keeping in the diaper bag for those unexpected messes. Great item for gift giving!
Product Features
♥ Fits babies from birth - 2 years
♥ Give your budget and the environment a break with these reusable diapers
♥ 100% cotton is soft against Baby's skin
♥ Includes folding instructions
♥ Use pins or Snappi to fasten (sold separately), or use pin-less inside Velcro® diaper covers.
♥ Color: White
| | |
| --- | --- |
| US Only | |
ADD A NEW REVIEW:
---
Post a Review to enter our Win a Diaper Contest!
HITWEB enhanced by Danjo Creations
FEATURED BOOK
---
• Suggest a review
• Articles Index
• Diaper Swaps
• Diaper Boards
• Diaper Lingo
• Diaper FAQ
• Menstrual Info
• Request Catalogues
• Linking to Born to Love
• Contact us

---
---
LEGEND OF SYMBOLS
Recently added listings
Manufacturer and/or Wholesaler
Work-at-Home-Mom Company
Baby diapering products
Menstrual products
Youth/Incontinence products
Diaper Service company