FEATURED PRODUCT
---
Diaper Product Reviews
Diaper Company Reviews
Add a Listing
Modify My Listing
Report a Review or Listing
---
---
DIAPERING POLL
How long have you been cloth diapering?
Click to respond
---
HELP! I've lost my company ID and/or password!
If you go to your listing, look in the URL in the address box of your browser for your ID number - it will look like this:
http://borntolove.com/resources/
fulldetails.php3?liens_id=46
So the company ID number is 46
When you click on "Modify My Listing", there is a link there called "Forgot Your Password?".
If you click on it, it will send your password to your email address.
Bet you thought no-one was using cloth diapers anymore?
Check out our Resource listings - 750+ baby cloth diapering company listings! Plus 150+ youth and adult product companies! We offer the most comprehensive resource listing - world-wide - of cloth diapering companies, information on diapering, books and articles of interest. Did we miss anyone . . . or any articles? Is your favourite diaper company missing from our Resources? Tell them to come and add their listing! Corrections, updates, additions and suggestions are always welcomed!
---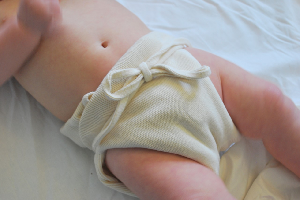 Engel Organic Cotton Tie Nappy Reviews
This Engel organic cotton tie cloth diaper is comprised of a very long piece of stretchy knit cotton that is wrapped and tied around your baby. The concept is similar to a flat or prefold in that it consists of one flat piece of organic cotton, but it also features a stretchy knit cotton tie that is wrapped around your baby's waist to keep the diaper in place. Engel has been manufacturing this simple diaper since the 1960's, and its simplicity, functionality, and comfort make it a favorite.
This diaper is made from soft, stretchy organic knit cotton that "grows" with your baby, which makes it truly a one-size diaper. It is one of the most economical choices in cloth diapers because it will fit your baby from birth through potty training. The knit cotton is absorbent but is fairly thin, so we recommend using this diaper with a doubler for extra containment and absorbency.
Product Features
♥ 100% certified organic cotton
♥ Stretchy knit organic cotton ties
♥ One-size diaper
♥ Great for night time
♥ Made in Germany
♥ Color: Natural
| | |
| --- | --- |
| US | |
ADD A NEW REVIEW:
---



Post a Review to enter our Win a Diaper Contest!


Choose a Diaper Brand: 4Ward Thinking • Alva • BabyCity • Babyland • Best Bottom • Blueberry • BumGenius • Bumkins • Bummis • Charlie Banana • Chinese Prefolds • Coola Baby • Curity, Vintage • Dappi • Disana • Econobum • Flip • FuzziBunz • gDiapers • Gerber • Giggle Life • GoodMama • Green Mountain • Grovia • Happy Heinys • Indian Prefolds • Kawaii • Kissaluvs • Knicker Nappies • Kushies • Mother-ease • OsoCozy • Rumparooz • Snappi • Sunbaby • Swaddlebees • Thirsties • THX • Tots Bots




FEATURED BOOK
---
• Suggest a review
• Articles Index
• Diaper Swaps
• Diaper Boards
• Diaper Lingo
• Diaper FAQ
• Menstrual Info
• Request Catalogues
• Linking to Born to Love
• Contact us

---
---
LEGEND OF SYMBOLS
Recently added listings
Manufacturer and/or Wholesaler
Work-at-Home-Mom Company
Baby diapering products
Menstrual products
Youth/Incontinence products
Diaper Service company