Home

Catalogue Index

Diaper Wrap Index

Angel Wrap FAQ
---
ANGEL WRAP FAQ
1. Open Angel Wrap and lay it out flat. Place folded cloth diaper in center.

2. Place baby on diaper. Lift diaper up to baby's tummy. Tie Angel Wrap in front.

3. Lift the front points of Angel Wrap towards baby's tummy.

4. Bring points around to baby's back.

5. Tie Angel Wrap in back.
ALTERNATE: Tie front and back wings firmly at baby's sides.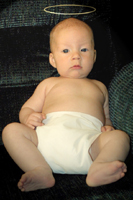 Photo thanks to Amy Hibbert
All Rights Reserved
QUESTION? ~ What are Angel Wraps made of?
ANSWER ~ They are made of 100% breathable nylon.
QUESTION? ~ How can they be breathable?
ANSWER ~ Nylon is considered to be somewhat breathable. Also, since there is no elastic to restrict airflow, you can get good breathability through the sides and the waist.
QUESTION? ~ Are they bulky on smaller babies?
ANSWER ~ Not bulky, but the regular size is very big! However, you can fold it down to fit a newborn easily enough. I can fold it up into a 3" flat square and and stick it my pocket. It is very light-weight! The waist can be tied as small as you need - I was able to tie an Angel Wrap on a 12" doll with a 9" waist!
However, I told the manufacturer that they would still be big for a newborn or, at the very least, overwhelming for a new mom, so they have come out with a infant size as well. The infant size only fits up to about 16 lbs. Then the regular size fits just fine.
QUESTION? ~ You say they go up to 50lbs...is this a real weight unlike other covers' weight ranges?
ANSWER ~ The regular size has a depth measurement of 24". That is from the front waist around the crotch to the back waist. By tying it at the sides, it will fit up to 40" waist!
So, yes - I think the sizing is accurate when it says it will fit to 50 lbs!
QUESTION? ~ How are the edges finished?
ANSWER ~ The edges are just the cut edges of the nylon - so there is no finish to wick or bind.
QUESTION? ~ Aren't the ties uncomfortable to lay on? Can baby feel them through their clothing?
ANSWER ~ The knots are very small and soft. They compress easily. Most babies will find them no more uncomfortable than laying on the Velcro® fasteners of other covers.
OUR CUSTOMERS SAY: I very much appreciate the availability of the angel tie wraps on your site. They are so much easier to use than most other wraps. There is no elastic to wear out, no cloth cover (over the elastic) to wick moisture onto clothing, no stitches to come undone, no Velcro® to comb, and they are adjustable to ANY size or shape of baby. I have not seen this product anywhere else, so I hope to God they are popular enough here to continue to offer. Thank You, Jessica Queenann.
Unfortunately, the Angel Wrap is no longer available, but here are instructions to make your own!
INDEX : Complete Diaper Wrap Index, Kissaluvs Marvels One Size PUL Cover, Snap Vinyl Wrap, Side Snap Cover, Babykins Unlined Wrap, Babykins Lined Wrap, Bummis Original Cover, Super Industrial Whisper Wrap, Industrial Print Wrap, Industrial Snap Wrap, Bummis Cotton Cover, AJ'z Wool Soakers.
---
---
Send questions, comments, and suggestions to: catherine@borntolove.com

Born to Love articles are written by Catherine McDiarmid-Watt
Born to Love is a participant in the Amazon Services LLC Associates Program, an affiliate advertising program designed to provide a means for sites to earn advertising fees.
NOTE: All logos, company names, brands, images, trademarks and other intellectual property are the property of their respective owners.
Born to Love is a participant in the eBay Partner Network, an affiliate advertising program designed to provide a means for sites to earn advertising fees by advertising and linking to eBay.com.
---
Copyright © 1978 - BorntoLove.com - All Rights Reserved.
Last updated - February 8, 2017