---
Contact Us!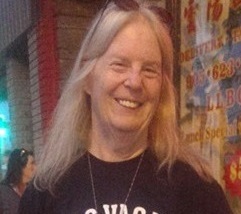 Catherine McDiarmid-Watt, owner of Born to Love, is located in Southern Ontario, Canada.
She can be reached at catherine@borntolove.com.
Read the story of how she started Born to Love in 1982.
Read her cloth diapering experience as a young mom.
Join us on the Born to Love Facebook fan page and Born to Love Twitter page.
Follow her daily frugal tips and freebie post on her Frugal Freebies Facebook page and on her Frugal Freebies blog.
Who Is Catherine?
I am a radical and a pioneer!
An advocate for children's rights in the 70's, when women were still struggling for their rights.
Granola crunchy back when it meant your cereal... Home-birthing with midwives before it was legal in Ontario...
Attachment parenting before it got a name... Invented the term full-term breastfeeding - and doing way back in the 70's when formula had become the way of the future!
Home-schooling when it wasn't popular yet, and most people thought it was illegal... Unschooling before it became a movement!
An entrepreneur before it was a word... Self-taught marketer when the books were being written.
Designer of baby carriers before the mommy-world discovered them... WAHM before it became an acronym...
Raw coding my own website before the rest of the world knew what dotcom meant!
Mommy blogger when blogs were still dominated by men...
Collector of pregnancy stories over 44 years old when they told me it was impossible or a miracle....
Frugal and couponing before some of you were even born!
---
The Diaper Facts column:
• How Do I Get Started With Cloth Diapering?
• Cloth Diapering With A Diaper Service
• How Do I Wash Cloth Diapers?
• Expensive to Wash Cloth Diapers?
• The STINK on Stinky Diapers
• Why are my cloth diapers and covers stinky?
• Here's my Stinky Diaper Solution!
• Why are my cloth diapers and/or diaper covers leaking?!?
• How Do I Make My Diaper Covers Last?
Other articles that might be of interest:
• How to Choose the Perfect Cloth Diapering System
• Feeling Confused About Your Cloth Diapering Decision?
• Diapering Expert Shares Secrets!
• Do Cloth Diapers Seem Too Expensive?
• Frugal Diaper Washing
• Frugal Diapering
• Frugal Baby Tips: Make Your Own Baby Bum Sweaters!
• Your Choice Does Make a Difference!
• What's Wrong With 'Disposable' Single-Use Diapers?
• Environmental Concerns - What Do They Mean For You and Your Baby?
• Environmental Concerns II - Looking at Both Sides of the Issue
---
Send questions, comments, and suggestions to: catherine@borntolove.com

Born to Love articles are written by Catherine McDiarmid-Watt
Born to Love is a participant in the Amazon Services LLC Associates Program, an affiliate advertising program designed to provide a means for sites to earn advertising fees.
NOTE: All logos, company names, brands, images, trademarks and other intellectual property are the property of their respective owners.
Born to Love is a participant in the eBay Partner Network, an affiliate advertising program designed to provide a means for sites to earn advertising fees by advertising and linking to eBay.com.
---
Copyright © 1978 - BorntoLove.com - All Rights Reserved.
Last updated - February 8, 2017