Search BorntoLove.com
ARTICLES
COMMUNITY
CUSTOMER SERVICE
Home

Catalogue Index

Books, etc. Index

Diaper Report
---
Books, etc. Index: Changing Times: Cloth Diapering Today, Back to Basics Diaper Pattern Book, The Diaper Report II, So Few Memories, So Much Love, Shattered Dreams Miscarriage Newsletter
---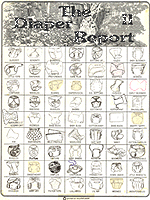 THE DIAPER REPORT II
Our expanded second edition. Compares over 76 cloth diapers, 21 liners and 34 waterproof covers sold in Canada mostly, as well as some diapers sold in the United States in the 90's. Testing results include absorbency rates, drying time, plus important waist and leg, crotch fit and more! This six-page report contains all the important information you'll need to make your cloth diapering decision. Order your copy today!
(This report is quite dated now, and focuses mainly on Canadian diapers, but if you are buying in the used diaper market you may find it very helpful.)
A btl exclusive!
WANT EVEN MORE DIAPER INFORMATION???
Read all our 65+ articles on-line on our web-site at our:
Diapering Articles Index
This item is in stock.
Shipping Info: Weight - 20 grams.
Confirm your US cost with our Currency Converter
---
---
Born to Love
Contact: catherine@borntolove.com

Born to Love articles are written by Catherine McDiarmid-Watt
Born to Love is a participant in the Amazon Services LLC Associates Program, an affiliate advertising program designed to provide a means for sites to earn advertising fees.
NOTE: All logos, company names, brands, images, trademarks and other intellectual property are the property of their respective owners.
---
Copyright © 1978 - 2013 BorntoLove.com - All Rights Reserved.
Last updated - May 19, 2013