Search BorntoLove.com
ARTICLES
COMMUNITY
CUSTOMER SERVICE
Home

Catalogue Index

Complete Diaper Index

Flat Diaper Index

Engel Flat Tie Nappy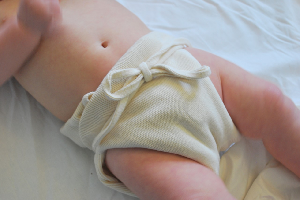 Engel Organic Cotton Tie Nappy
by Engel
This Engel organic cotton tie cloth diaper is comprised of a very long piece of stretchy knit cotton that is wrapped and tied around your baby. The concept is similar to a flat or prefold in that it consists of one flat piece of organic cotton, but it also features a stretchy knit cotton tie that is wrapped around your baby's waist to keep the diaper in place. Engel has been manufacturing this simple diaper since the 1960's, and its simplicity, functionality, and comfort make it a favorite.
This diaper is made from soft, stretchy organic knit cotton that "grows" with your baby, which makes it truly a one-size diaper. It is one of the most economical choices in cloth diapers because it will fit your baby from birth through potty training. The knit cotton is absorbent but is fairly thin, so we recommend using this diaper with a doubler for extra containment and absorbency.
ORGANIC - High quality organic cotton such as this is antistatic, robust, moth-resistant, and can be washed at high temperatures in washing machines. It is suitable for the most sensitive skin, making it an ideal choice for infants.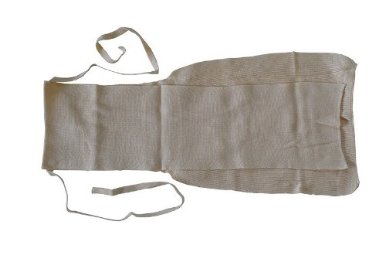 SIZE: This is a one-size diaper. It can be folded as needed in both the front and back to make it small enough to fit a newborn, as long as you don't mind a little extra bulk. Unfolded, the dimensions are: 35" (89 cm) long (from top to bottom), 7" (18 cm) wide (at the narrow base), and 14" (35.5 cm) wide (at the wide upper portion). Each string is 20" (51 cm) long but can be stretched out to around 23" (58.4 cm).
CARE: This diaper is machine washable and may be dried on medium heat. Organic cotton absorbs moisture well, but keep please keep in mind that it should be washed 5-10 times before reaching its full absorbency. If you skip this important step, you will find that liquid rolls right off of the fabric. This is due to the natural oils found in organic, unbleached cotton.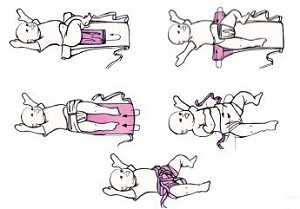 Product Features
♥ 100% certified organic cotton
♥ Stretchy knit organic cotton ties
♥ One-size diaper
♥ Great for night time
♥ Made in Germany
♥ Color: Natural
Want to know what others think? Read the reviews!
Have you used these diapers? Post a review!
| | |
| --- | --- |
| US | |
---
Complete your diapering system:
More Folding Videos:
(Scroll down on the page)
♦ How to fold a flat diaper/kite fold
♦ Folding Flats
♦ How to Fold a Flat Kite Style
♦ How to Fold Flat Square Cloth Diapers
♦ How to Pad Fold a Flat Cloth Diaper
♦ How to Fold a Flat Origami Style
♦ Wraparound Tie Nappy
Folding Instructions | How to Pin | How to Snappi | How To Wash | Tips | How Many?
---
Born to Love
Contact: catherine@borntolove.com

Born to Love articles are written by Catherine McDiarmid-Watt
Born to Love is a participant in the Amazon Services LLC Associates Program, an affiliate advertising program designed to provide a means for sites to earn advertising fees.
NOTE: All logos, company names, brands, images, trademarks and other intellectual property are the property of their respective owners.
Born to Love is a participant in the eBay Partner Network, an affiliate advertising program designed to provide a means for sites to earn advertising fees by advertising and linking to eBay.com.
---
Copyright © 1978 - 2013 BorntoLove.com - All Rights Reserved.
Last updated - May 19, 2013