Search BorntoLove.com
ARTICLES
COMMUNITY
CUSTOMER SERVICE
---
A Diaper Change Story
... narrated by Baby Sign Language
We know that verbally narrating our day or activity will help develop our child's vocabulary and speech, but have you tried integrating non-verbal narration? If, like most parents, you have selected some of the more common starter signs while teaching baby sign language, then chances are you already do this. For example, you narrate your baby's meal by signing eat, milk, fruit, vegetable, and so on.
Using sign language for babies in addition to verbalization, gives baby a bilingual narration. It opens the gateway to communication sooner since the fine motor skills to create a hand gesture develop quicker than speech. You can describe just about any activity with words and signs, but let's take a look at one activity that you and baby will be doing A LOT... approximately 3,000 times in the first year!!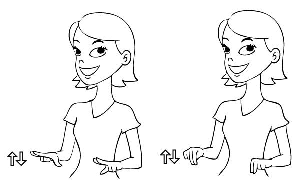 Sign diaper by taking your hands and placing them down around your waist. Take your index fingers and middle finger together from each hand and tap them on your thumbs. It is like you are playing mini castanets at waist height.
You hear the grunts... you see the soggy sag... Now is the time to ask: "Do we need to change your diaper?" The sign for diaper is the same whether you use disposable or cloth. It is made by taking your middle and index fingers together and tapping them on your thumbs; imagine a pair of mini castanets. Perform the sign at waist height, right about the level where you would clasp a diaper closed. However, it can be performed higher up on the body for baby to see it properly.
Once in the nursery and on the changing table, the fun begins! If your baby is in the rolling, crawling, standing and all around wiggly phase, it is handy to have a distraction. We work on our animal signs by keeping stuffed toys near the changing table. After months of signing and handing baby a bear, giraffe, cat, or other toy, you may notice your baby starts requesting a specific stuffed animal by its sign.
I narrate as much of the process as I can verbally since my hands are busy with actually changing the diaper, but we throw in all kinds of signs. I sign kiss and smother baby's neck and belly in kisses. Consider using on/off or open/close. Work on numbers by counting each button or snap. And with hand sanitizer nearby, you can end the diaper change with a wash. And finally, by signing finished before scooping baby up from the changing table and heading to the next activity on baby's agenda - which I hope you will narrate with just as much enthusiasm.
Go visit babysignlanguage.com to get wonderful free multimedia resources inclusive of baby sign language flash cards.
---
This article compliments of Born to Love.
---
Other articles that might be of interest:
• Dangerous Baby Product Information Alert
• Ten Product Ingredients Your Child Should Avoid and Why
• 20 Questions to Ask Your Doctor and Pharmacist About Your Child's Medications
• Skin Care Ingredients You Should Avoid and Why
• The Facts About Pesticides and Your Baby
• Environmental Illness in Children
• Newborn Bill of Rights
• Household Child-Safety Check-list
• Common Dangerous Plants
• Water Safety for Kids
• The Immunzation Debate - Will you vaccinate your child or not?
• The Vaccination Decision - Important and revealing information
---
Born to Love
Contact: catherine@borntolove.com

Born to Love articles are written by Catherine McDiarmid-Watt
Born to Love is a participant in the Amazon Services LLC Associates Program, an affiliate advertising program designed to provide a means for sites to earn advertising fees.
NOTE: All logos, company names, brands, images, trademarks and other intellectual property are the property of their respective owners.
---
Copyright © 1978 - 2013 BorntoLove.com - All Rights Reserved.
Last updated - May 19, 2013