Search BorntoLove.com
ARTICLES
COMMUNITY
CUSTOMER SERVICE
Home

Catalogue Index

Diaper Wrap Index

Litewrap
---
INDEX: Angel Tie Wrap, Snap Vinyl Wrap, Side Snap Cover, Babykins Unlined Wrap, Babykins Lined Wrap, Bummis Original Cover, Super Industrial Whisper Wrap, Industrial Print Wrap, Industrial Snap Wrap, Bummis Cotton Cover, Litewrap, Snapiwrap, Cot'nwrap, AJ'z Wool Soakers, Aquadiaper Swim Diaper.
---
LITEWRAP DIAPER COVER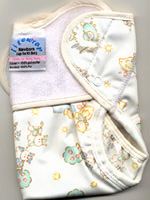 Very effective, waterproof diaper cover at an affordable price! Stays dry through several changes. Leg gussets keep diaper in place, prevents leaks. Durable, non-abrasive Ultra-Mate Velcro® keeps cover on. Fold-back protection for Velcro® during washing. Newborn size has belly-button cut-out. Newborn to XLarge have snaps at legs to help secure the cover and avoid scratching. 100% polyester, bonded with 100% PolyUrethane Laminate (PUL). Available in white only.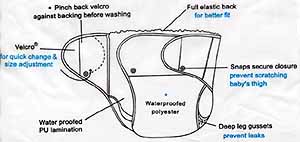 LAUNDRY CARE: Close Velcro® against it's backing. Machine wash in COLD, no chlorine bleach. Tumble dry LOW heat.

SIZE: Premie - 0-8 lbs, Newborn - 6-10lbs, Small - 10-15lbs (0-6m), Medium - 15-20lbs (6-12m), Large - 20-30lbs (12-18m), XLarge - 30lb+ (18m+).
Made for Basic Connection in Hong Kong.

Measurements | How Many? | How To Wash | Leaking Covers? | Stinky Covers?

Sorry, several sizes are currently out-of-stock.
In stock we have 16 premie and 6 xlarge only.

Shipping Info: Weight - Premie-30g, Newborn-60g, Small-60g, Medium-70g, Large-80g, XLarge-80g.
Confirm your US cost with our Currency Converter
---
---
Born to Love
Contact: catherine@borntolove.com

Born to Love articles are written by Catherine McDiarmid-Watt
Born to Love is a participant in the Amazon Services LLC Associates Program, an affiliate advertising program designed to provide a means for sites to earn advertising fees.
NOTE: All logos, company names, brands, images, trademarks and other intellectual property are the property of their respective owners.
---
Copyright © 1978 - 2012 BorntoLove.com - All Rights Reserved.
Last updated - July 5, 2012